Bachelor's Degree Programs
Most photography bachelor's degrees are fine arts degrees, specifically, a bachelor of fine arts in photography, or BFA. This photography degree is attained over a standard four-years of college study. Bachelor's degrees in photography are often offered at schools of art and design, but four-year photography programs may also be found at schools offering a wide range of majors.
While these programs focus on knowledge and skills directly related to imaging, they also ensure students receive a quality general education. In this sense, a bachelor of fine art in photography can offer the best of both worlds. Photography students have a full college experience with a quality general education, as well as a full and detailed photography program that includes extensive practical laboratory work. The Rhode Island School of Design even partners with Brown University so that students can receive a BFA from RISD along with a bachelor of arts degree from Brown in five years.
The prerequisites for entry to a BFA photography program are more significant than for a certificate or associate's program. Applications must be supported by a high school transcript and standardized test scores. Most schools request SAT scores, though some accept ACT scores. Photography schools request letters of recommendation with their applications. Many schools also request an interview, artist statement, and portfolio. An artist statement might include creative goals and personal philosophy. Art programs want to admit students with some demonstrated evidence of creative vision and ability. These programs are more competitive as well.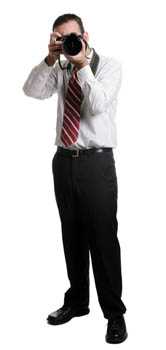 The cost of a bachelor of fine arts in photography is as for other four-year majors but bears an additional cost for equipment. The photography degree tuition cost for a Virginia resident at George Mason University is $8,484 per year, at the Art Academy of Cincinnati $22,360 per year, and at Ithaca College in New York $33,630 per year. Photography students at accredited four-year colleges and universities can be considered for financial aid awards including federal grants and loans.
Students often have the opportunity to select a concentration within the BFA major. At the Brooks Institute in California, for example, students may select a concentration in advertising photography, commercial photography, media photography, and portraiture photography. Parsons the New School for Design offers tracks in fashion, fine arts, and technical skills for the commercial or editorial photographer.
Coursework for a four-year photography degree includes significant seminar and lab work in the field. Photography students take courses in drawing, light, design, art, many photography styles, imaging software, and digital capture. Additionally, students complete general liberal arts class work and supplementary courses that may enhance their photographic specialty. Some photography degree programs require business management courses. All require a substantial amount of time spent in shooting studios, processing rooms, and laboratories to capture, develop, and present images.